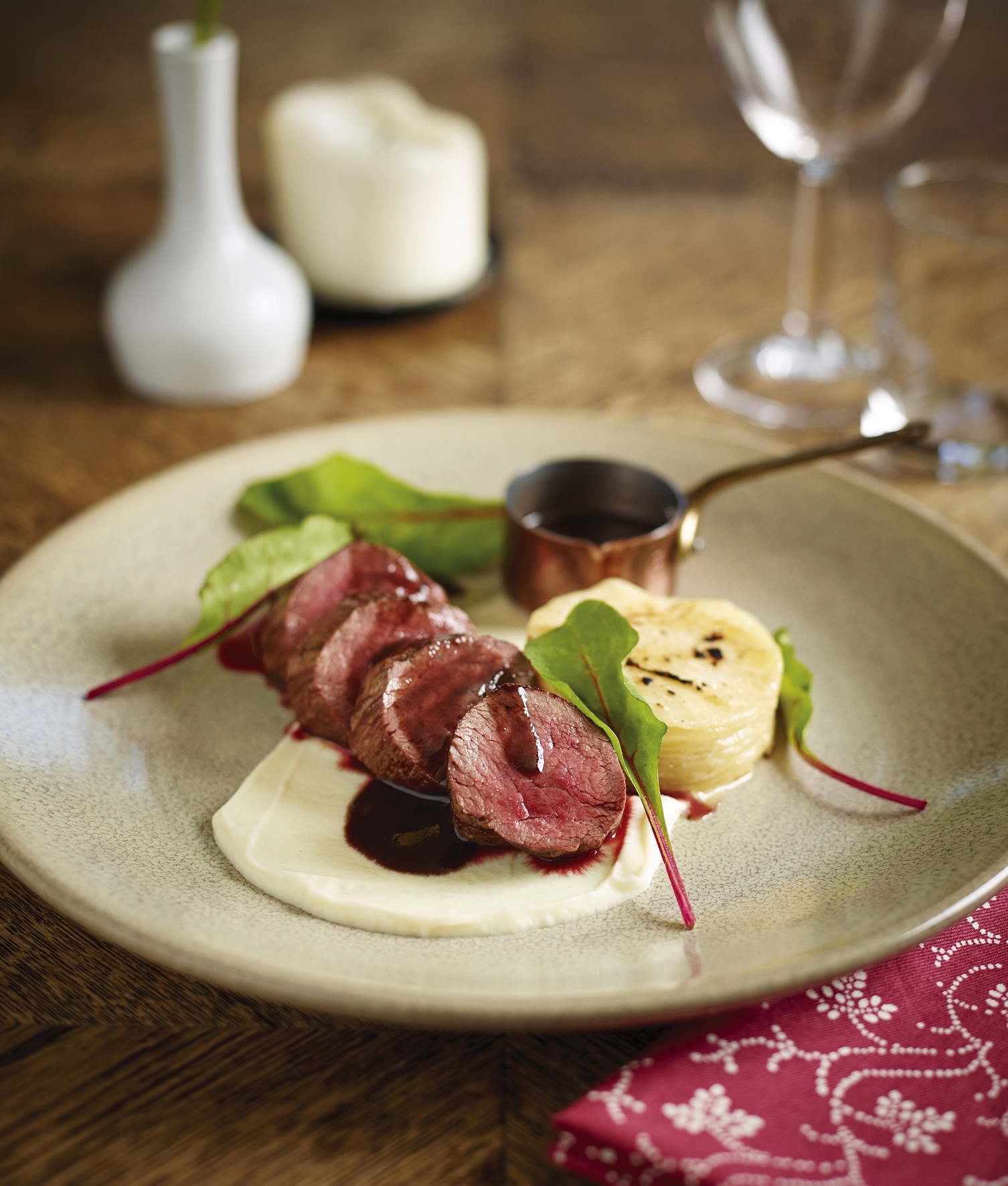 Pan Roast Loin of Venison
Served with Creamed Celeriac, Celeriac Gratin, Ruby Chard and a Shropshire Prune Damson Sauce.
Serves 6
Ingredients:
For the damson sauce:
50ml rapeseed oil
450g venison trim, bones, chopped small from the saddle
1 onion, chopped
2 garlic cloves, crushed
1 celery stick, chopped
1 thyme sprig
1 bay leaf
6 peppercorns
40ml damson vinegar (Chilton or other)
400ml red wine
1 litre water or chicken or veal stock
30 – 40 damsons (Shropshire Prune variety)
For the creamed celeriac:
250g celeriac, peeled and cubed
225ml milk
70g butter
For the celeriac gratin:
10ml rapeseed oil
1 kg celeriac, peeled
1 large sprig rosemary, leaves finely chopped
4 garlic cloves
Salt and Pepper
400ml double cream
100ml milk
For the venison loin:
6 Will Game Venison Loin steaks approx 200g ( or more if you like)
35ml rapeseed oil
50g butter
1 thyme sprig
1 garlic clove
15 20 ruby chard leaves (or beetroot tops)
Method
For the damson sauce:
Fry off venison trim and bones in the oil until brown, add onions, garlic, celery, carrot, thyme, bay and peppercorns.
Fry off gently. Add the damson vinegar and red wine, reduce by half.
Add water (or stock)  reduce by half again. Skim off any fat and sieve.
Add the damsons cook out for 10 – 15 mins or until thick and syrupy.
Taste and season.
For the Creamed Celeriac:
Gently cook the celeriac in the milk on a low heat until tender.
Blend until smooth.
Add butter and continue blending.
Pass through a fine sieve and season.
For the Celeriac Gratin:
Preheat the oven to 190c (170C fan).
Bring the cream, milk, garlic and rosemary to the boil, season liberally, simmer for 10 mins and then sieve.
Grease a deep roasting tin, finely slice the celeriac 2mm thick, layer with the flavoured cream, bake for 40 -50 mins, until the celeriac's tender and the top is brown and crisp.
For the Venison:
Heat an ovenproof frying pan with oil, add the venison loin, season on all sides, cook until brown on all sides, usually 1- 2mins.
Place in a preheated oven at 200c (180C fan), cook for 6 – 8 mins, turn occasionally.
Remove from oven add butter.
Remove venison from the pan and slice.
Add chard leaves into warm butter to lightly wilt.
To finish, plate the creamed celeriac, a slice of the gratin, the chard then the venison and drizzle over the sauce.