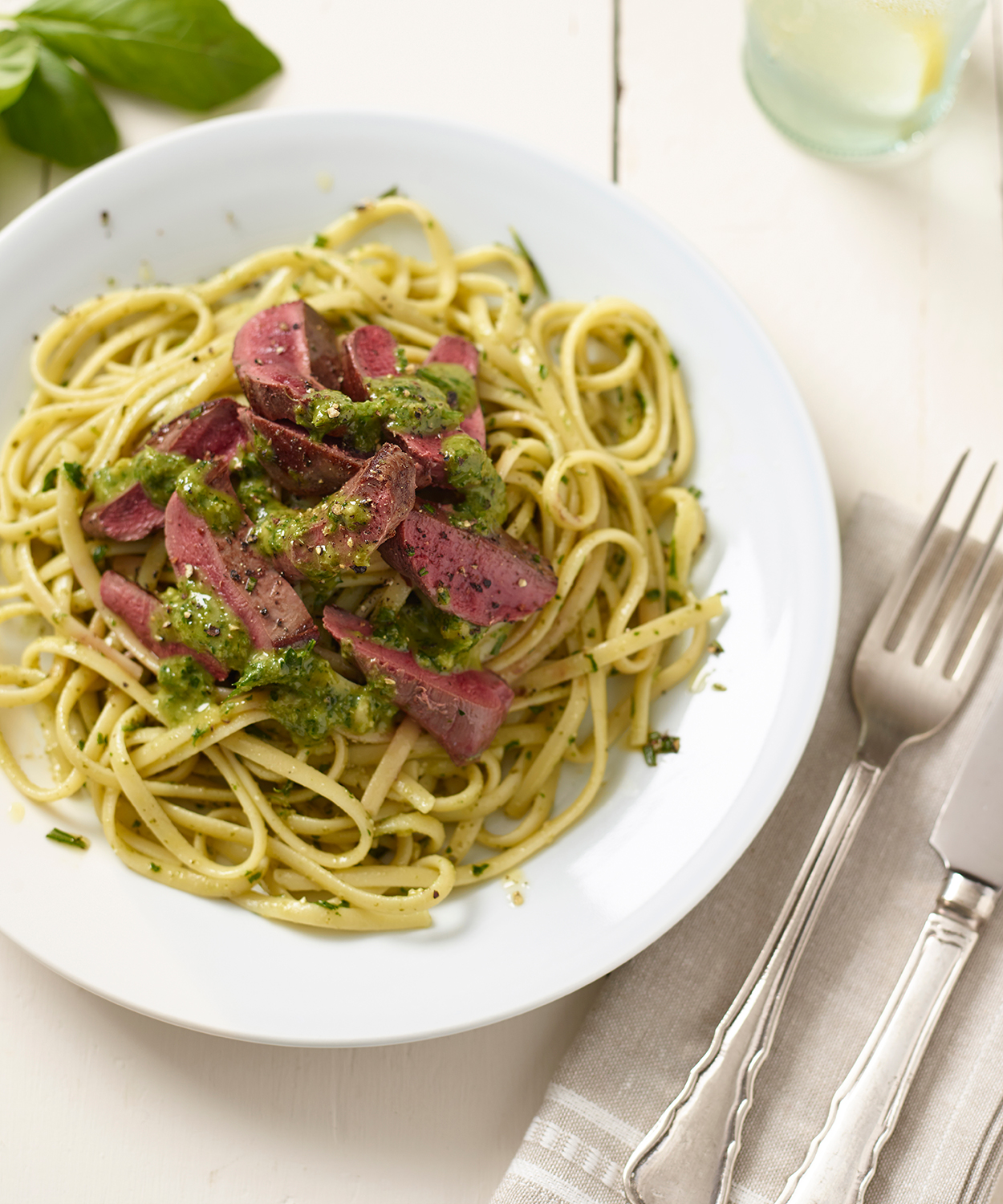 Pan Fried Wood Pigeon Fillet with Pesto and linguine  – By Ralph Skripek – The Wild Chef
Ingredients:-
For The pigeon
4 Willo Pigeon Fillets ( 2 fillets per person for a main course or one fillet for a starter)
4 Strips of Pancetta
1/4 of a Chorizo
2 Sprigs of Fresh Thyme
1 tblsp Rapeseed Oil
For the Pesto
1 Handful of Pine Kernels
1  Handful of Pistachio Nuts
1 – 2oz Fresh grated Parmesan Cheese
1 Handful Fresh Basil Leaves
Sea salt and Black Pepper
1 – 2 Tblsp Rapeseed Oil
A glug of White wine
A dash of Basil or Lemon Oil
Method
For the Pesto
Place the Pine Kernels and Pistachio nuts in your grinder ( a small coffee bean grinder will do) and Blitz.
Add the Parmesan, Basil leaves, Sea salt and Black Pepper and Rapeseed oil and Blitz.
Taste and then add the White wine and a dash of your chosen flavoured oil and blitz.
For the Pigeon
Wrap the Pancetta around each pigeon fillet.
Heat heavy frying pan and add 1 tblsp of Rapeseed oil. Heat until smoking.
Place the pigeon fillets into the pan and seal on both sides approximately 1 1/2 minutes each side.
Remove from the pan and place in a preheated oven 160 c to keep warm.
Now place the linguine in a pan of salted boiling water and cook for 8 – 10 minutes.
Add the Chorizo and Thyme to the frying pan and cook for 2 minutes adding some chopped Pancetta half way through.
Remove the pigeon fillets form the oven and add to the frying pan.
Over a high heat bast the pigeon with the juices in the pan from the Chorizo and Pancetta.
Remove the pan from the heat and leave the pigeon to rest while you prepare the Linguine and Pesto.
To Serve
Drain the Linguine and place in a bowl.
Add some Pesto to the Linguine and toss so that all the pasta is covered.
Place the pasta on a plate.
Put the Pigeon fillets on top of the Linguine and pour over the Pan juices including the Chorizo and Pancetta.
Serve with a crisp green salad.
This delicious dish is quick, easy and healthy. The pesto can be frozen or stored in the fridge for other meals.